A COMPARATIVE STUDY OF SPACED AND MASSED TIME ALLOTMENT IN IMPROVING ENGLISH VOCABULARY OF THE STUDENTS OF MADRASAH ALIYAH DAKWAH ISLAMIYAH PUTRA NURUL HAKIM KEDIRI
Musaddad Musaddad

English Post-Graduate Student, University of Mataram
Abstract
This research is aimed at finding if spaced time or massed time allotment can improve student's vocabulary. Spaced time allotment can improve students' vocabulary than massed time allotment. This experimental research was done at MA.DI.Pa Nurul Hakim Kediri in academic year 2016-2017. The total numbers of subject involved in this study were 49 students from science department classes. 26 students from IPA 1 were treated using spaced time allotment, and 23 students of IPA 2 were treated as massed time allotment. Spaced time allotment means students learned vocabularies in 45 minutes long then there was spaced approximately 8-9 hours. Students learned again in 45 minutes long. This run 10 times meeting while massed time allotment means students learned 90 minutes long without spaced time in it. This run 5 times meeting. The similarities of the two treatments are total time meeting and total vocabulary learned. The total time meeting of two treatments were 450 minutes and and the total vocabularies input were 100 vocabularies.  The instrument employed in this research was multiple choice tests. It was found that the spaced time allotment is better than massed time allotment in improving students' vocabulary. It was shown by the mean score 78.03 for IPA 1 or spaced time treatment while IPA 2 or massed time treatment obtained 66.37. There is a significant effect in gaining students' vocabulary improvement. The t-count value (6.755) was higher than t-table value (2.704) in the significant level 0.05 with the degree of freedom (df) 22, Thus, the result of the research shows that the spaced time allotment is effective in improving students' vocabulary than massed time allotment. The alternative hypoyhesis is accepted and null hypothesis is rejected. The spaced time allotment gives higher improvement in vocabulary mastery.
Key words: comparative, spaced time allotment, massed time allotment, improvement, English vocabulary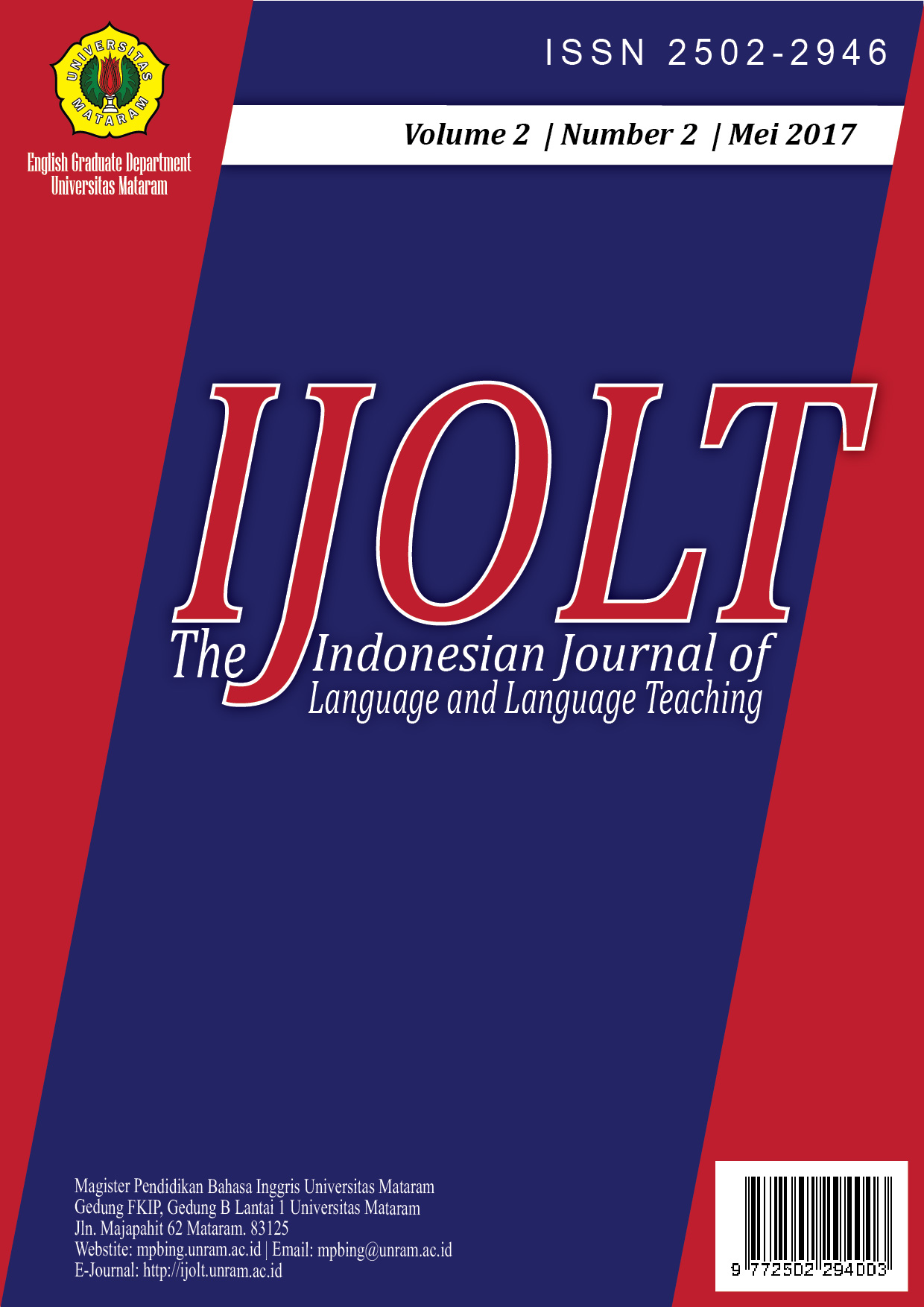 How to Cite
MUSADDAD, Musaddad. A COMPARATIVE STUDY OF SPACED AND MASSED TIME ALLOTMENT IN IMPROVING ENGLISH VOCABULARY OF THE STUDENTS OF MADRASAH ALIYAH DAKWAH ISLAMIYAH PUTRA NURUL HAKIM KEDIRI.
THE INDONESIAN JOURNAL OF LANGUAGE AND LANGUAGE TEACHING
, [S.l.], v. 2, n. 2, p. 14 - 27, may 2017. ISSN 2502-2946. Available at: <
http://ijolt.unram.ac.id/index.php/ijolt/article/view/21
>. Date accessed: 20 nov. 2017.