A DESCRIPTIVE STUDY ON CLASSROOM LANGUAGE USE: A STUDY AT SMA NEGERI 2 MATARAM
Mukti Mukti

English Post-Graduate Student, University of Mataram
Abstract
Teacher talk is of crucial importance, not only for the organization of the classroom but also for the processes of acquisition. It is important for the organization and management of the classroom because it is through language that teachers either succeed or fail in implementing their teaching plans. In terms of acquisition, teacher talk is important because it is the major source of comprehensible target language input the learner is likely to receive. The purposes of this study were to investigate the amount of English used in the EFL classroom and discuss the amount of teacher talk time and the impact of teacher talk time on students' participation in the classroom. Data for this study were purposively collected from observation and made the audio recording of the naturally occurring English classroom. Then, the data were transcribed by adopting Van Lier transcription system. In addition to the classroom recording, the data were also gathered through teacher interview and questionnaires for students. The results of the study showed that teachers involved in the study did not use English optimally in the classroom. Besides, they used teacher talk time excessively in the classroom that students had very limited time to practice using the target language. Therefore this study recommends that teachers should pay attention to their talk and talk time in order to increase students participation in the classroom.
Keywords: Teacher talk (TT), students talk (ST), teacher talk time (TTT), student talk time (STT), language acquisition, second language (L2)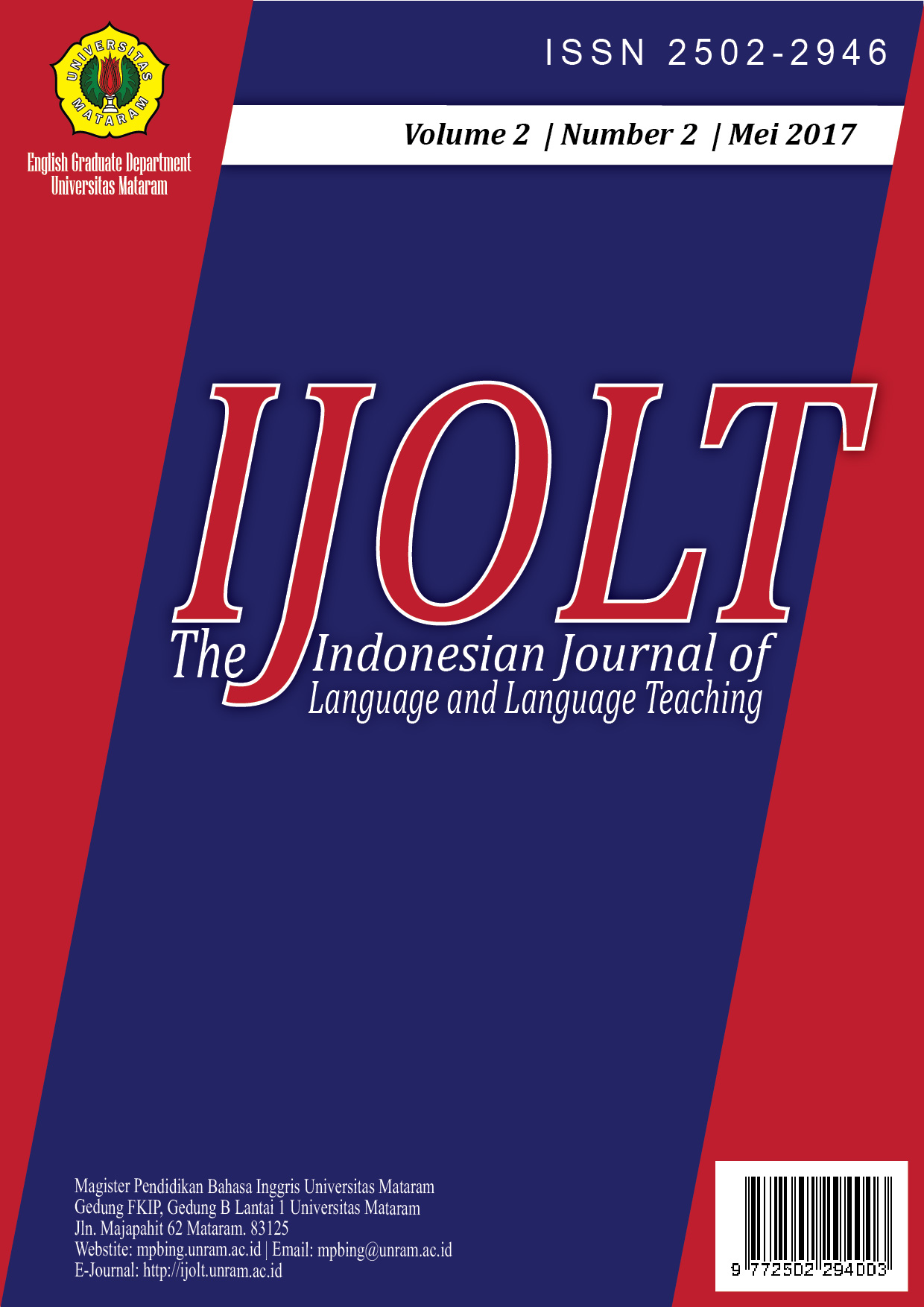 How to Cite
MUKTI, Mukti. A DESCRIPTIVE STUDY ON CLASSROOM LANGUAGE USE: A STUDY AT SMA NEGERI 2 MATARAM.
THE INDONESIAN JOURNAL OF LANGUAGE AND LANGUAGE TEACHING
, [S.l.], v. 2, n. 2, p. 28 - 37, may 2017. ISSN 2502-2946. Available at: <
http://ijolt.unram.ac.id/index.php/ijolt/article/view/22
>. Date accessed: 20 nov. 2017.